They say there's no place like home. That's not exactly true. The saying should be "There's no place like a custom home built exactly the way you want." Now that's one of a kind. There's something truly special about coming home to a luxury space that is uniquely yours – one that represents your life and the way you want to live it.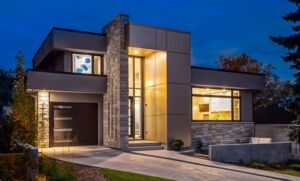 If you've come to a time in your life where you're ready to build your own custom luxury home in Calgary, you've come to the right place. Here are 3 reasons people trust Riverview Custom Homes to make their dream home a reality.
1. You have the luxury home you truly want
It's rare that an existing house on the market meets all your expectations. Typically, you are expected to compromise, sacrificing one thing for another.
However, building your own luxury custom home means no compromises or sacrifices. If you've ever been inside a Riverview Custom Home, then you know the personalization is something extraordinary. There is nothing they can't do. A full home theatre, underground tunnel leading to your dream wine cellar, an indoor swimming pool, a complete basketball gym, hidden rooms, an impressive basement bar to entertain guests that lead right out to a beautiful patio – the possibilities are simply endless with a luxury custom house.
At this point in your life, you deserve to come home to a place that is uniquely and truly yours with the amenities and features you want.
2. The location you want
A common constraint for potential buyers searching the housing market is finding a nice home, but the location doesn't work. On the flip side, it's frustrating to not be able to find the right home in your desired location. With a custom-built home, you choose where you want to build.
As an award-winning builder in Calgary, part of our role is finding the perfect location. The team at Riverview Custom Homes will work with you to find the perfect piece of land, whether it's for an extravagant inner city home or a grand home on an acreage (sometimes even an inner city acreage). Whatever location you choose, we have the experience and expertise to optimize the space and design your dream home.
3. The gratification and a strong sense of ownership
For some, a custom luxury home project might seem a little daunting. However, take a moment to think about the end result.
Imagine stepping into the home that you've envisioned and dreamt of owning for years. Walking through your entryway, into your kitchen, up your stairs and through all your rooms, seeing all of the details that you've personally chosen come together. Sharing your new custom-built home with your loved ones and feeling a sense of pride that you finally have the home that you worked hard for.
You deserve to enjoy and love the space you live, work, and play in. If you can dream it, we can build it. Connect with us today and let's start building your legacy.
Frequently Asked Questions
1. How long does it take to build a custom home?
Each project is different and the answer to this question varies depending on the size of the home and how complex the build is. A custom home will typically take 3-4 months to build but if the home is larger with complex details, it can take as long as 9 months to complete. At Riverview Custom Homes, we give our clients consistent updates during the home build process and an estimated completion date.
2. Do you offer a warranty?
Absolutely. Be wary of any custom home builder that does not offer warranty protection on their work. Riverview Custom Homes offers our Progressive Home Warranty Package that includes:
1 Year Materials & Labour Warranty
2 Year Mechanical Systems Warranty
5 Year Envelope Protection
10 Year, $60,000 Structural Defects Warranty
$25,000 Deposit Security Warranty
$6,000 Additional Living Expenses Coverage
3. What type of custom homes do you build?
We specialize in building luxury homes, from modern mansions to classic designs to vintage castles. Check out our portfolio of some of the homes we've built for inspiration on your custom home project.