Custom renovations in Calgary are a beautiful thing. Why? Because the city is dotted with a plethora of landscapes that make for an awe-inspiring place to call home. We have ravishing rivers, lovely lakes, and depending on where you're situated – gorgeous mountain views! It's no wonder Calgary is one of the most livable cities in the world!
And that's why we here at Riverview Custom Homes are proud to be one of the premier luxury home builders in Calgary. And as a custom home builder in this fine community, we have earned a myriad of awards that have solidified our reputation.
We were presented with the 2021 BILDCR Award by the Building Industry Land Development (BILD) Calgary Region awards. We also garnered three top awards in the categories for Best New Home as well.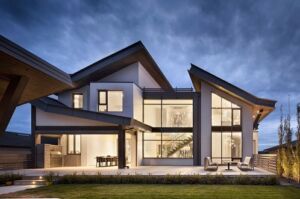 All of this to say that with Riverview Custom Homes, you're in good hands and can entrust us with bringing the vision of your dream home to life.
Choosing Riverview Custom Homes
When you choose Riverview Custom Homes, you're choosing one of the best luxury custom home builders in Calgary. For this reason, you can be sure that when it's all said and done, your dream home will everything you'd ever hoped it to be and so much more. We are here to help you realize your vision.
But you may be wondering why you should choose us over the next custom home renovation company. Keep reading to find out.
1. Commitment to Excellence
Our commitment to excellence is unparalleled. And this sentiment is reiterated in everything we do. From the materials we use to our team on the ground, everything at Riverview Custom Homes is of the highest quality. And it's this devoted allegiance to exceptional craftsmanship that puts us head and shoulders above other custom home builders in Calgary.
2. You'll Be Taken Care of
At Riverview Custom Homes, we fully understand the sacredness of your home. It's where you feel safe and secure, it's where your family grows, and it's where memories are created with your loved ones. A lot is on the line with your custom home, and we don't take this responsibility lightly.
That's why we are dedicated to your custom home build. But more than that, we are dedicated to you and your family to ensure your custom home is the place of solace you expect it to be. With Riverview Custom Homes, you will be taken care of – always.
3. One of a Kind Homes
Our architectural designs are truly one of a kind. With premium craftsmanship, high-grade materials, incredible architecture and attention to detail, we create exceptional homes that are in a class by themselves. As a result, you can enjoy living in a truly unique home that is not only distinct from other accommodations but also personalized to meet the needs of you and your family.
Final Thoughts
There are plenty of home builders in Calgary. But very few of them will provide excellent craftsmanship, superior architectural design, and undying commitment to your project like Riverview Custom Homes. For these reasons, we are the luxury home builders in Calgary who will convert your dream home vision into a tangible reality.
If you're ready to bring your dream home to life, be sure to connect with us today to see how we can serve you.