Do you dream of having a home that is uniquely and perfectly designed just for you? A luxury custom home in Calgary might be the answer to your dreams. There are many reasons people choose to build a custom home – the biggest draw being that you can design your home exactly how you want it – we're talking extravagant mansions, breathtaking design, and superior architecture with endless possibilities for personalization.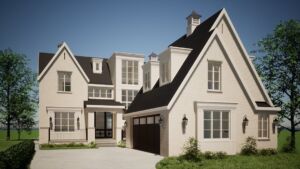 If you're ready to continue building your legacy and invest in a Riverview Custom Home, here are a few important things to know before you start the process.
1. Design for your lifestyle and needs but don't be afraid to dream of the possibilities
It's easy to get caught up in all of the exciting details of a custom home because you can play with so many options. A triple car garage, 6 bathrooms, a big foyer, a stylish bar – you name it. However, as incredible as these features sound and look on paper, they'll end up going to waste if they don't fit your lifestyle. After all, what good is a 6th bathroom if your household only uses 3?
Instead, we recommend making a list of things that makes sense for your lifestyle alongside a 'dream' list. If you're a sports enthusiast, perhaps a large storage area to keep equipment and gear in. But how your own private outdoor tennis court, basketball court, or golf training are. If you're a bookworm with an extensive book collection, a beautiful library with a cozy reading area makes sense. How about a secluded secret space behind a bookshelf where you can tuck away and escape?
Remember, a luxury home is not like a standard custom build. An excellent builder can combine your lifestyle and needs with unique attributes that are personalized to you and only you.
2. Hone in on your vision
When it comes to custom homes in Calgary, your options are endless! And this could be a good thing or an overwhelming hurdle to conquer. Consider all of your options by writing down different styles, such as a modern or traditional design, classic styles or sleek contemporary lines, a warm and inviting ambience, or a cool and sophisticated feel.
We recommend going through home and interior design magazines or online publications and saving pictures that you gravitate towards. As you gather your ideas, you might be surprised to find a pattern or a common theme between them. This is a great way to hone in on your vision before you meet with a custom home designer for your initial consultation.
3. Choose the right builder
The builder you work with can make or break your experience, so it's important to take your time and research different custom home builders in Calgary. Finding a builder that specializes in magnificent multimillion-dollar homes is in a class by itself – you want a partner who will work with you to bring your vision to life.
When researching the right builder, give each one a call to ask questions – a collaborative builder is happy to answer your inquiries.
Some good questions to ask are:
Can you walk me through your home-building process?
How do you make sure the project stays on budget and on schedule?
How do you deal with constraints and issues along the way?
Do you offer a warranty?
Do you have a gallery of past projects that I can take a look at?
How long does it take to build a home from start to finish?
What type of support do you offer after the project is complete?
4. Nightmare stories are rare
If you've been researching custom homes, you've likely heard some horrific stories about home construction gone wrong. Projects left incomplete, builders abandoning the client, or the costs going thousands of dollars over budget. We want you to know that these stories are rare and for every nightmare story, there are hundreds of success stories of happy homeowners with the house of their dreams.
At Riverview Custom Homes, we set a high standard in the custom luxury home industry. Our team includes professional designers, architects, builders, project managers, and site supervisors who are experts in their field. Together, we have built superior properties that our clients find joy coming home to.
As we like to say – if you can dream it, we can build it. If you're ready to discuss the home of your dreams, connect with us today and let's get started on making that vision a reality.