When someone is thinking of building a custom home, one of the most common questions that arise is "how long will it take to build my house?" And understandably so. The process of building a house is always exciting, and sometimes even cruel. When a person sees the beautifully finished designs, they sometimes would like to fast-forward into the future. Unfortunately, this is not possible… and the waiting game begins with a lot of anticipation.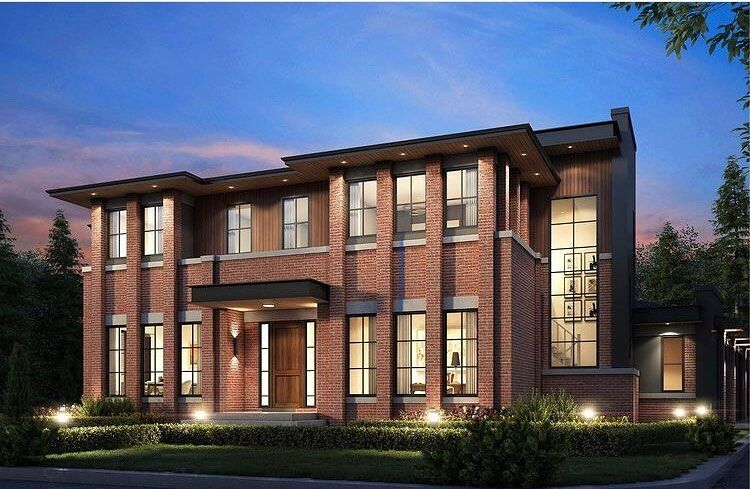 Here, we answer some of the most frequently asked questions we receive:
How long does it take to build a house in Alberta?
The answer depends on many, many factors. Generally speaking, people can expect a house to be built from the ground up within a time frame of 3 to 4 months, although it is good to note that it can take longer during the winter months (especially in Calgary). Bigger homes, however, can take as long as 9 months to be built. Of course, the building time relies heavily on the expertise of the builders.
How much does it cost to build a house in Calgary?
The answer to this question also varies. A semi-custom home is typically less expensive to build than a fully customized home, however, you don't have as many options with a semi-custom home. The property size (including the land), the details, such as material, additional accessories, and more play a factor in the overall cost.
The process of custom home building
A custom luxury home is a home that is built around the future owner's personality. It allows the latter to personalize their house completely without having to worry about pre-defined features. A semi-custom home, on the other hand, tends to be more affordable but borrows many pre-determined features that can't be changed.
Each home project is unique, but you can expect the following timeline during a full custom home build:
The initial consultation – You'll meet with our design and architect team where we discuss your ideas, including whether you want a modern or traditional home style, your desired location, your lifestyle, needs, and overall vision.
Choosing the location – If you'd like, we can help you choose the location and examine the property. Our team is experienced at optimizing the land and can offer expert recommendations that will complement the space. Once you've chosen the location, an offer to purchase is made and once secured, the design process begins.
Design concepts – Our team puts together an initial design concept based on your vision. We walk through the design with you and make adjustments as requested. Remember, this is your home and we want you to be completely happy with it. With a fully customized home, you get to choose the materials, colours, flooring, countertops, backsplashes, and all of the little details down to the door style and hardware.
Review home plan – The design concept may go through a few different revisions until you're satisfied. We review the home plan together and one of our architects reviews and signs off on the plan to make sure it's architecturally sound. Once you've approved and signed off on the home plan, we put together a budget forecast.
Securing the investments – You are provided with a detailed budget forecast of each cost and expense so you know exactly what to expect. Once the funds are secured, construction begins.
The custom home construction process begins – The process involves a lot of hands on deck, including a project manager and site supervisors to make sure construction goes as planned, that the build follows Alberta's laws and regulations, and inspections are completed and approved throughout the months. During this time, you'll be provided with frequent updates on project status and monthly ledgers with detailed expenses.
Home orientation – Once the custom home build is complete, our team ensures your home is ready for your first walkthrough. Besides possession day, this is one of the most exciting moments as you get to see your dream home for the first time. As we walk through each room, we inspect all of the details and make a list of any issues that need to be addressed. After the final inspection, it's…
Possession day – After months of waiting, you finally receive the keys to your new, beautiful luxury home! We promise you – having a one-of-a-kind home that is specially designed for you and your family is worth the wait.
Custom home warranty
We don't just leave it at that, however. At Riverview Custom Homes, we are always here for support should you run into any problems. Your new custom home is covered with our Progressive Home Warranty package that includes:
1 Year Materials & Labour Warranty
2 Year Mechanical Systems Warranty
5 Year Envelope Protection
10 Year, $60,000 Structural Defects Warranty
$25,000 Deposit Security Warranty
$6,000 Additional Living Expenses Coverage
Are you looking to hire a team of contemporary home builders in Calgary? We can help. Here at Riverview Custom Homes, we know houses – and it clearly reflects in the way we handle projects.