Building the home of your dreams is an exciting journey. And when you've come to a place in your life where you can build your legacy, what better way to celebrate the fruits of your labour than by investing in a luxury home crafted especially for you?
As a custom home builder in Calgary, we are often asked how much it costs to build a home. The answer depends on a multitude of factors, including whether it's a completely custom or a semi-custom build, how large the property is, site preparation, the architecture, material, and features – just to name a few.
At Riverview Custom Homes, we specialize in luxury. In fact, if you can dream it we can build it. Our portfolio of custom homes showcases a diverse range of designs – from sleek contemporary to traditional builds of stone and wood. If you're considering building a luxury custom home in Calgary, one of the preliminary steps is to determine an estimate of the cost and set a budget.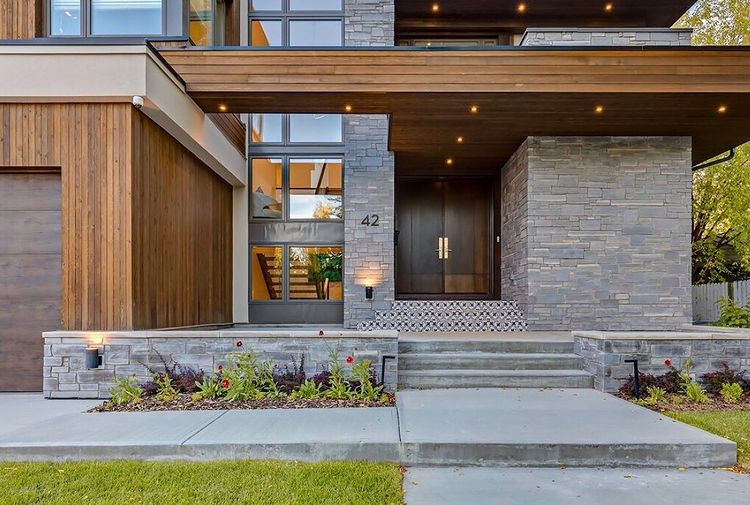 Here's what you can expect during the process and how to choose a reliable company that will stick to the budget as closely as possible.
Evaluating the cost of a custom home
The first step in the process is to meet with your builders, which includes the design and architect team. You'll discuss your overall vision, your desired location, your needs, lifestyle, and budget. From here, our team can give you an idea of the cost based on similar builds, square footage, and features.
Although each custom home build differs, the process typically follows:
An offer to purchase the land – At Riverview Custom Homes, we can help you choose the location and offer recommendations on how to optimize the land. Once the offer to purchase is made and secured, we begin the design process.
Initial design concept – The initial design concept is based on your vision. Our expert designers will put together elements for a cohesive look, including materials, colours, backsplashes, door styles, lighting – every one of a thousand detail. The design concept may go through a few revisions – remember, this is your home and you should be completely satisfied with the concept before moving forward. During this stage, your team will inform you of the estimated costs and any changes in total expenses.
Home plan review – Once the design is approved, an architect reviews the home plan to verify that it's architecturally sound. After the home plan has been approved and signed, we can put together a detailed budget forecast.
A detailed forecast of costs – The budget forecast includes the expected cost of the overall build and what each expense includes. Of course, with any build, some issues may arise that may become an added expense. An experienced builder will communicate common issues with you and plan for contingencies to keep the project moving smoothly. Once you've approved the budget forecast and the funds are secured, construction begins on your new luxury home.
Frequently asked questions
How much does it cost to build a 2000 sq ft house in Alberta?
When you search online on the average cost of building a 2000 sq ft house in Alberta, many sources will claim that it's about $150 per square foot. However, keep in mind that this number fluctuates significantly depending on the type of house you're building, the materials, site preparation, architecture, design, and more. The cost of a stick-built home will differ greatly from building a custom luxury home in Calgary.
Can I build my own house in Calgary?
Absolutely. Calgary has vast open spaces with available land in rural areas and desirable locations in the urban sprawl to build your dream home. If you decide to build in Calgary, be sure you work with a home builder that has a firm knowledge of city by-laws, zoning laws, and provincial policies.
How expensive is it to build a house in Alberta?
The cost of building a house in Alberta is not a straightforward answer as it depends on a number of factors. First, Alberta offers diverse locations – rural, urban, small towns, hamlets, city suburbs, to name a few. Each location requires different site preparation, which can impact the cost. Second, the type of home you want to build is a ruling factor on the overall cost. While a single-family home can range anywhere from $250,000 to $500,000 and over, you can expect a superior luxury build to cross the million-dollar mark.
Choosing the right custom home builder in Calgary
While there are horror stories about custom home builds – projects going thousands of dollars over budget and builders leaving the project unfinished – these incidents are rare. However, they do highlight the importance of choosing an experienced builder, especially for superior and complex builds.
Be diligent in your search for the right builder. When it comes to costs and budget forecasting, some good questions to ask are:
How do you make sure the project stays on budget?
Will I be given invoices and details of each expense?
How do you communicate issues during the project?
How do you approach constraints and solve problems along the way?
Can you walk me through your home-building process?
What warranties do you offer?
At Riverview Custom Homes, we set a high standard in the custom luxury home industry. Our team includes professional designers, architects, builders, project managers, and site supervisors who are experts in their field. Together, we have built superior properties that our clients find joy coming home to.