Many people dream of building a custom home. And it's easy to see why: the range of control, the customization, and the lot choice – among many other things – all make custom homes an appealing alternative. However, there are many myths surrounding the topic of custom home construction.
At Riverview Custom Homes, we are among the best custom home builders in Calgary. As such, we've heard all the fables. And that's why we're here to dispel the myths associated with custom home-building projects.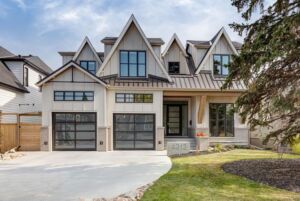 So keep reading to learn 5 myths about custom home projects that are based more on superstition than reality.
1. You Need to be a Professional Designer
As your trusted Calgary custom home builder, we want to assure you; you don't need to plan and design every inch of your house on your own for your custom home project. Far from it. It's fine to contribute however much you feel is necessary. So please don't think that you need to have every morsel of your home planned and accounted for.
However, the more you do know what you want, the better. Our expert craftsmen can guide you through the process and ensure that the details are sorted. Moreover, our custom home builders can also create an architectural masterpiece for your home, even if you're unsure of what you truly want at the moment.
2. Custom Homes Take a Long Time to Complete
Whether your home is custom or not, there are many variables to consider for the timeline of a home construction project. For this reason, you can't control all of the factors that will play a role in the time it takes to complete. Poor weather conditions, budgeting issues, human error, etc, can all impact the timeline.
But even with these considerations, the time frame of a custom build isn't that much different than that of other home construction projects. The primary reason a custom home might take a little more time is due to the feature selection and design process.
3. Building a Custom Home is Hard and Complex
This is really a matter of perspective. Sure, such a project does have its complexities, as does anything else of this magnitude. However, building a custom home can actually be a very rich, rewarding, and enjoyable experience! You get the full range of creative expression. Everything from the location and layout, all the way to the windows and light fixtures – you have dominion over almost every detail.
Additionally, at Riverview Custom Homes, we go above and beyond to ensure your experience is a pleasurable one. We work to simplify the process for you so you're not bogged down by the overly complex details.
4. You'll Go Over Budget
Understandably, one of the primary stressors of custom home building is money. But that doesn't mean a custom home can't be built within its allotted budget. And the best method to ensure this outcome is communication. Let your home builder/designer know right from the start what your budget is for each expenditure.
Talk with the team and work with them so that everyone is on the same page and there is no confusion in regard to budgeting. This will go a long way in keeping spending under control.
5. Builders Lack Communication Skills
Don't let this myth keep you from your dream home. Painting each person in a group with the same brush is silly. The truth is there are plenty of builders with excellent communication skills. In fact, we here at Riverview Custom Homes take pride in the communication we demonstrate while on the job. It's part of what makes us so efficient and respected.
And while there are certain builders out there who do lack this essential skill, there are plenty of others who use and practice it as a regular part of their day-to-day operations.
Final Thoughts
Many myths just don't hold up when you look at the facts. And this is apparent when looking at the custom home builder myths. Recognize that with the right custom home builder, the myths that you've heard through the grapevine simply don't apply.
At Riverview Custom Homes, we provide custom luxury accommodations with our expert team of designers, coordinators, and managers. Moreover, we've been presented with a myriad of awards that have cemented our prestige. These include the 2021 BILDCR Award by the Building Industry Land Development (BILD) Calgary Region awards. Additionally, we've also won three top awards in the categories for Best New Home as well.
So if you're ready to actualize the dream home you've been envisioning, then contact us today to see how we can help.