Custom homes are a prestigious symbol. They represent hard work, diligence, and often a sense of luxury. Personalization is a significant aspect that separates these opulent establishments from their conventional home counterparts, and the custom homes in Calgary are true testaments to this notion.
This tailored approach to modern custom homes is what adds to their appeal. But aside from customization, there are many other feature considerations for custom homes. Here are 8 ideas you may want to consider for yours.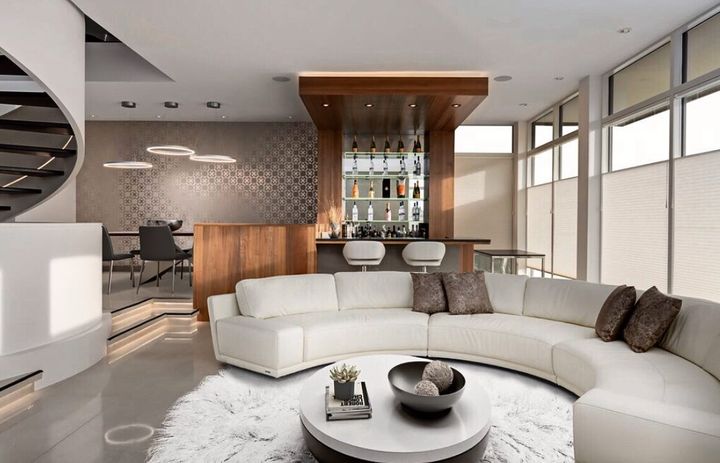 1. Entertainment-Friendly Kitchen
Picture your custom home kitchen design. Spacious area and open layout, counters stretching across the whole of the backsplash, a generous, elongated island accompanied by bar stools, etc. So what does this kitchen design offer? An easy way to entertain while preparing food for visitors.
Most kitchens are closed off, making interacting with and entertaining guests more difficult while preparing dinner. Every modern custom home should have a similar open kitchen concept to make for better hosting and food preparation.
2. Classic Design
A classic custom home design encompasses refinement. It beckons to the finer details, such as definitive colours, materials, and designs. Moreover, many modern homes in Calgary incorporate these foundational elements into their blueprint, attracting prospective homebuyers preparing to settle down.
Drafting custom homes with these classic components is a reliable way to strengthen the resale value and bypass additional renovation expenses in the future.
3. Plentiful Natural Light
The inundation of natural sunlight does wonders. A well-lit home is more inviting as the bright decor welcomes all who make their way through your abode. This trait is another benefit custom homes have over their traditional home equivalents.
Unfortunately, many conventional homes are not designed to take advantage of this endless natural resource. For this reason, plentiful natural light is another feature that would serve your custom home well.
4. Generous Storage Space
Have you noticed most modern homes are clutter free? Fewer items are left out; hardly any miscellaneous possessions are in the open; by and large, there's just less disorganization. Credit goes to cleverly designed, subtly positioned storage space.
These kinds of concealed repositories make cleanliness and organization a breeze. And the best part? You can integrate them into your custom home in Calgary.
5. Energy-Efficient Appliances & Fixtures
Energy-efficient appliances and fixtures are a part of modern homes' comforting appeal. With low-emissivity windows and securely sealed building envelopes, warm or cool air remains within the house, reducing energy costs.
In addition, water-conserving and energy-saving appliances such as ovens, laundry machines, smart refrigerators, etc., are very beneficial for homeowners, resulting in a smaller carbon footprint and energy bill reduction.
6. Wine Cellar
If you're a connoisseur of the finer things, why not consider a wine seller for your custom home? Enjoy collecting various wines to sample and share with friends and loved ones. Choose a large walk-in closet-style wine cellar or a small pantry-derived variant. Whatever your preference, your builder can help bring it to life in your modern custom home.
7. Home Office
More people than ever are now working from home. For many, this concept was once a pipedream that has become the new normal; a baseline standard. With everything digitized, our professional lives have shifted to the virtual space. This fact illustrates the necessity of a home office – you can only be so productive working in the kitchen or on the couch.
Real focus occurs when your environment is set up to support that kind of productivity. And that's why a home office in your custom home in Calgary is a great design idea.
8. Floor-to-Ceiling Fireplace
Few things are more welcoming than a warm fireplace. Fortunately, you have total creative input for your fireplace design in your custom home. And with that much freedom, why not make something exceptional? A floor-to-ceiling fireplace can become a scenic centrepiece for the whole family to enjoy.
Envision Your Modern Custom Home in Calgary
There are endless options for how your custom home can take shape. And with a bit of creativity and assistance from the right designers and architects, nothing is impossible. At Riverview Custom Homes, we'll create your luxurious residence just for you.
We are an award-winning group of trusted and professional architects and designers specializing in design concepts that vary from modern to classic. Contact us today to learn how we can help you build your custom dream home.