Do you own a nice piece of land in a rural area? Are you planning on constructing a home in the quiet countryside near Calgary? If so, then Riverview Custom Homes in Calgary is here to help. Building a house outside of the city can be tricky. There are countless things that you need to think about, especially if the land you've purchased extends for many acres.
For this reason, hiring an acreage home builder in Calgary can prove to be an invaluable decision that will bring your dream home to life – whether in the countryside or elsewhere.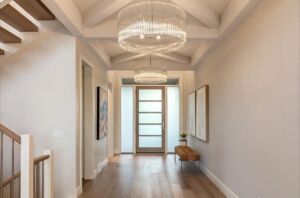 Riverview Custom Homes can help. We have extensive experience building extraordinary custom luxury homes in rural areas.
The Importance of Custom Home Builders in Calgary
If you are planning on building a house in the Calgary area, you'll be hard-pressed to do so without the help of professionals. As a result, knowing when to hire professional Calgary acreage home builders is crucial if your wish is to see the house of your dreams come to life as soon as possible.
But here's the thing…
Not every acreage home builder is created equal. For this reason, taking the time to research and study prospective companies – that are both reliable and affordable – is absolutely essential for the development of your dream home.
But at this point, you may be wondering…
When You Should Hire Custom Home Builders in Calgary
Depending on your level of experience when it comes to home building, you might want to start searching for the perfect company as soon as possible. After all, if you are not planning on building your house by yourself, then there are only a few things you can do without the help of professionals by your side.
Consequently, it's important that you do your due diligence and begin the searching process once you've made the commitment to construct your acreage dream home.
A few tips to help with this process include:
Asking friends and family
Online research
Assessing online reviews
Speaking to previous customers
Gaining counsel from other tradesmen
These are important and effective methods to help you find a quality custom home builder to manage your project. By ensuring you have the right builders for the job, the process will become much more efficient as a result.
Conclusion
If you are planning on moving to Calgary and purchasing a few acres of land in the city's vicinity, Riverview Custom Homes can help make that land uniquely yours by building the house of your dreams on it. Our experience encompasses building houses as varied and colourful as the clients who hired us to build them.
As a result, we are no strangers when it comes to Calgary acreage home building. For more information, we encourage you to connect with us today. We'll be sure to get back to you as soon as possible!