Calgary has become one of the country's fastest-growing cities — and for good reason. Modern, interesting and fast-moving all at the same time, this city welcomes heaps of new families every year. And with luxury home builders in Calgary erecting some of the most interesting properties in western Canada, this is a city that continues to grow and innovate the architectural excellence of its residential homes.
As such, if you are thinking of settling down in Calgary, then you have the choice between many unique and beautiful neighbourhoods. Before making any decision, however, we do recommend bringing this subject up with your modern home builders in Calgary.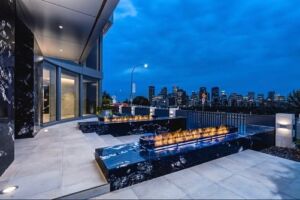 As we like to say, building a house is an investment that lasts a lifetime. Lot selection should never be underestimated. With that being said, you may be wondering to yourself…
What are the Best Places to Build a House in Calgary?
At Riverview Custom Homes, we have a myriad of skillful craftsman, expert contractors, and modern home builders in Calgary who have worked on some of the city's most luxurious homes. For this reason, we have the experience and knowledge to share some of the best places on where to build your new home.
And you may be surprised by the answer…
Because the truth is that there is no real answer — it all depends on what you are looking for. As an example, a family might benefit from living in a family-friendly neighbourhood such as Cambrian Heights in Northwest Calgary. On the other hand, a young, childless couple might prefer living in Altadore, Southwest Calgary. This neighbourhood is in close proximity to downtown Calgary and offers residents a number of breathtaking panoramic views.
Determining the Right Calgary Neighborhood for You
Begin by familiarizing yourself with Calgary's neighbourhoods. During this process, you should ask yourself many questions. Are you planning on having children? Do you prefer to live in a rural or urban area? Are you interested in living in an area filled with beautiful sceneries? The more questions you ask yourself, the more clarity you'll gain, and the easier your decision will be.
If you are unfamiliar with Calgary, then your home builders might play an important role in your decision. Ensure to be in touch with them and to always be honest with what you want.
This simple process will help you to determine what matters most to you and your family in a neighbourhood. As a result, you'll have a much easier time deciding on a home once you see that it meets all of your criteria.
Final Thoughts
When you're new to a city, deciding a neighbourhood and picking a home can feel like a daunting task. The reason being is simple: you're unfamiliar with the region. You have nothing to go off of other than pure speculation and the opinions of others. However, you'll find that if you do your own research and prepare enough ahead of time – choosing the right neighbourhood will be much easier than you think.
At Riverview Custom Homes, we are first-rate luxury home builders who possess the creative architectural flare to turn visions into reality. For this reason, if you need expert assistance in bringing your dream home to life, be sure to contact us today to learn more about how we can help.
We look forward to hearing from you.