Calgary has a lot to offer. It's a city of both abundance and opportunity. As such, this makes it an amazing place to call home. And judging by its 1.3 million residents, many people agree with this notion. In fact, according to a 2022 Demographia International Housing Affordability Survey, Calgary was ranked among the world's top 10 most livable cities!
There's only one drawback: the frigid winters…
As a homeowner, your home renovations in Calgary will undoubtedly be based on the time of year it is. Many people assume spring or summer may be the ideal seasons for such a project – but is that really the case?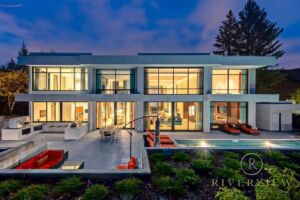 At Riverview Custom Homes, we are one of Calgary's best custom home builders. As such, we want you to be well-informed about your home renovations in Calgary. Keep reading to learn the best time of year to start your next project.
1. Springtime
Spring may seem like the obvious choice. And for good reason; the snow has melted, temperatures have warmed, and the days are just more pleasant, in general. However, this necessarily doesn't mean that home renovations during the spring are perfect by any stretch.
Calgary sees more rain in the spring than any other season. Moreover, rain can occur sporadically, and without warning – starting midday and carrying through to the evening. Or it can turn off and on like a light switch throughout the entire day.
This isn't exactly conducive for a home renovation project. Why?
Rain brings with it the possibility of damaging expensive materials for your home renovation. As frigid and chilly as winter is, cold temperatures won't irreparably damage pricey materials
2. Summertime
Summer is another highly favoured season for home renovations. Longer days, and warmer weather make this an easy choice among homeowners. However, something to keep in mind is the uncomfortable elevated temperatures. Calgary gets hot (by Canadian standards). It's not uncommon for the city to hit the low to mid thirties, which can not only be exhaustive to work in, but also dangerous.
Too much exposure to that kind of heat can result in sunburn, heat exhaustion, or even skin cancer. However, this is typically only after long periods in the heat without the proper sun protection.
3. Fall
The fall may be the best time of year to work on your home renovation project. Why? Because temperatures will be almost perfect: they will be cooler than both spring and summer, but still much warmer than winter. You get the best of both worlds and can work comfortably during the entire project.
Starting a home project in the fall has other benefits as well. Namely, you and your family can enjoy the beautiful spring and summer months without construction hindering your experience.
Start Your Home Renovation Project in Calgary
While fall is indeed an ideal time to start a home renovation project, at the end of the day – preference plays a role too. If you enjoy working in the heat, opt for summer. If you love the rain, find a way to make it work in the spring; the choice is yours and it should be based on what works best for you and your family.
At Riverview Custom Homes, we are Calgary's luxury custom home builders. We can craft your home with architectural brilliance and effective cost management strategies. Moreover, we have been named the 2021 Building Industry and Land Development (BILD) Calgary Region Builder.
As such, if you have any questions or would like to learn more about how we can help you create your dream home, contact us today for additional information.