Your home is more than a place where you lay your head at night. When guests step through the door, they get a sense of your style, preferences, and personality. Some people prefer more contemporary homes with present-day amenities, while others enjoy a more conventional type of home with quaint and simple attributes.
Thus, the competition between the modern and traditional house wages on. However, if you're currently in the planning stages of building a luxury home in Calgary, you may be wondering which one is the better choice for you, personally.
Perhaps you've been weighing out the pros and cons of each, and find yourself thinking either one would be a good fit. As an award-winning custom home builder in the Calgary area, Riverview Custom Homes want to help you weigh out the factors of a modern vs traditional home.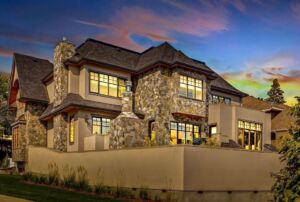 Modern homes
Modern homes offer a plethora of benefits that make them an appealing choice for the more progressive homebuyer. Keep in mind that a modern home goes beyond the clean aesthetics of contemporary architecture, sleek lines, and minimalistic look.
Features such as environmental friendliness (more commonly known as a 'green' home), beautifully designed composition, even something as "innocuous" as excellent space utilization is a great selling point for many people. Modern homes offer all of these elements and more.
Contemporary construction also offers the luxury of a naturally superior atmosphere. What does this mean? Every home decor conveys a certain texture that affects your emotional state. For example, rundown and dilapidated homes make you feel ill-at-ease and uncomfortable. On the other end of the spectrum, beautiful homes that are clean and well-maintained make you feel relaxed, calm, and peaceful.
Now, of course, with the proper refurbishment, even the dreariest of home decors can become lively again. But why go through the work when you can have that high-quality layout right from the get-go with a more present-day house?
That's exactly what a modern home helps you achieve.
So if you're someone who is forward-thinking and appreciates the finer things in life, a custom luxury home in Calgary may be the ideal choice for you.
Traditional Homes
I know, modern homes sound appealing, don't they? But that doesn't mean you should count out traditional homes. Trust me when I say these properties have their charm.
First of all, traditional homes are very family-oriented. So if you're someone who holds family in high regard as a strong, personal value – then a traditional home will certainly have its appeal.
Secondly, traditional homes possess a certain amount of character and quaintness that can sometimes be hard to find in more modern homes – they are timeless. And they offer an unfailing classic reversion that can remind you of simpler times – think 2.5 kids with the white picket fence.
This is something many people yearn for; a return to more customary and time-honoured ideals. And if you happen to be one of those individuals, then the traditional home is right up your alley.
Frequently Asked Questions
What is the difference between traditional and modern houses?
There are many differences between modern and traditional homes: space utilization, amenities, windows, lighting, the materials used for construction, even the floorplan are all differentiators that separate these two styles of homes.
Do modern-style homes cost more?
Yes – in general, modern homes are more costly than traditional ones. Why? Because modern houses are equipped with up-to-the-minute technology, constructed with better materials, outfitted with higher quality appliances, and stocked with other features that enhance their inherent value in the marketplace.
What is the difference between traditional and modern design?
There isn't a single difference that separates modern and traditional homes from one another. But rather, there are many differences that are unquestionably unique to each type. Everything from colour, design, layout, style, all play a role in differentiating one type of house from the next.
Modern vs Traditional Home: Which is Best For You?
Choosing one style of home over the other is neither good nor bad – it's simply a matter of preference. If you enjoy a more sleek and polished home with sophistication and refinement, then the modern home is for you. However, if you hold more conventional values and enjoy simple and old-fashioned architecture, then the traditional home will most likely be the better fit.
The good news is, with a custom luxury home, you won't have to sacrifice one for the other. If you dream of a traditional style with modern features, this is all possible with our team of expert designers and architects at Riverview Custom Homes. We construct custom homes for our clients; you dream it, we build it. If you'd like to learn more, don't hesitate to connect with us today. We look forward to hearing from you.