Renovating your home is both an exciting and overwhelming time. You likely have design inspirations, decor ideas, colour palettes, and a vision of how you want it to come together. If only you could get your ideas out of your mind and have them done with a snap of a finger! We wish it were that easy – but the truth is, a home renovation project can come with some hurdles and frustrations.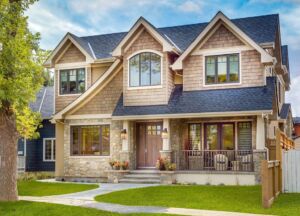 At Riverview Custom Homes, we work with clients who don't want to build a new luxury home from the ground but want to recreate their existing space. If you haven't considered working with a luxury home builder for your custom home renovations in Calgary, here are some advantages that may just convince you to do so!
Custom designs without the full build
If you love the home you're in for the location, sentimental value, or overall layout, but you want a completely refreshed look with a hint of grandeur, our designers will work with you to craft the perfect space without a full build.
We recommend going through magazines or online resources and gathering the designs and decor inspirations that really stand out to you, including colour schemes, materials, and textures. When you bring these ideas to us, we can capture your vision and sit down with you to create a plan to transform your existing home.
A team of trusted experts
The most stressful part of home renovations is managing different contractors, from flooring companies to electrical technicians, plumbing, painters, and more. When you work with a custom home builder, you have a team on your side, including a project manager and site supervisors who will take care of scheduling, dealing with contractors, ordering supplies, submitting permits to the City of Calgary, and more.
These experts are familiar with regulations and arranging projects so that time is optimized. At Riverview Custom Homes, we stay in consistent communication with our clients so they're always in the know of the project status and the estimated time of completion. Additionally, we can effectively deal with any constraints or issues along the way. Having a team of experienced professionals will save you from the stress of needing to manage it all.
Cost transparency
When you work with Riverview Custom Homes, we do everything in our power to help you stay on target and avoid spending more than you intended. Before the renovation project begins, we provide you with a detailed budget forecast and make sure your renovations meet your expectations within that budget. Once the renovations are underway, we provide detailed expenses with the corresponding invoice so you're always in the know and there are no surprises.
Warranty coverage
Last but certainly not least, most custom home builders have a warranty in place for their materials, labour, and more. At Riverview Custom Homes, our projects are covered by our Progressive Home Warranty package which includes:
1 Year Materials & Labour Warranty
2 Year Mechanical Systems Warranty
5 Year Envelope Protection
10 Year, $60,000 Structural Defects Warranty
$25,000 Deposit Security Warranty
$6,000 Additional Living Expenses Coverage
Frequently Asked Questions
Most homeowners have a lot of questions when they start considering home renovations. The most common one is, "where do I start?" Remember that you don't have to do it all at once and you can start small to get the project rolling. We answer some of the most common questions about home renovations below.
How do I start a home renovation project?
First, decide what you'd like to tackle first. Take a walk through your home and make note of the rooms that need attention and the areas that you've wanted to refresh for some time, including windows, garage door, paint colour, cabinets, and more. Next, organize your list by priority.
How do I build a realistic home renovation budget?
A luxury home renovation is unique and comes with many considerations when building out a budget. It can also be challenging to research the average cost of the renovation when the project is very unique to you. You can ask friends and family who've gone through a similar renovation, browse through luxury home blogs, or call us at Riverview Custom Homes for more information on how to get started.
Should I hire a builder or an architect for a home renovation?
Hiring the right team that includes a designer, architect, and custom home builder will save you a lot of time, money, and stress along the way. A professional designer will provide you with concepts that you may not have thought of and can make recommendations on materials that match your budget without compromising the look you want. An architect will make sure the renovation plan passes safety codes and regulations while a builder takes charge of the actual construction.
Although hiring a team may be an extra expense, the results are always worth it compared to trying to manage the project by yourself. In fact, many homeowners who attempt to do a home renovation project by themselves end up spending more money and time than if they work with experts who have the experience to avoid costly mistakes.
Final thoughts
We're sure you've heard plenty of stories about home renovations being stressful and overwhelming with problems that break the bank. Homeowners almost have to brace themselves for what's to come – but, it doesn't have to be that way.
Positive home renovation stories that are completed on time and on budget should be the rule and not the exception. At Riverview Custom Homes, we set the industry standard to make sure the process goes as smoothly as possible for our clients.