We've all heard the horror stories of renovation project costs gone wrong. Whether it be a family friend who tried to opt for the cheapest materials – and paid the price. Or a coworker or colleague who failed to properly budget, and as a result, was taken aback by inordinate and unexpected expenses.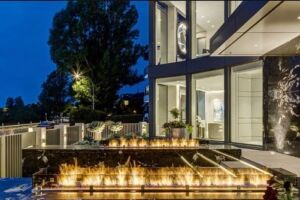 Whatever the case, covering the costs of custom home renovations in Calgary require diligent planning. The utility of a well-thought out budget is invaluable with such projects. For this reason, it's essential to know how much you should budget for your upcoming home renovation.
Keep reading to learn more.
Why Home Renovation Projects Go Over Budget
The simple truth is that your home renovation project will be more costly than you think. This is due to the many moving parts and external variables at play. And if your home renovation is a particularly large project, even the best custom home builders will have a difficult time trying to ensure nothing throws your budget off.
However, one way to save yourself a lot of time and money is to ensure you have a competent crew to begin with on your project.
Be sure to properly screen your contractors. Check online reviews, ask for photos of previous projects they've done, ask friends and family for referrals, etc.
Poor contracting isn't the only reason home renovations go over budget. Many times, homeowners under budget, and simply don't have the funds for what they want. This typically happens because they are basing their financial projections on what they viewed online via YouTube, Google, or perhaps even what they've seen on TV.
A good rule of thumb for an accurate home renovation budget is take what you've estimated, and times it by two or three.
How to Prevent Going Over Your Budget
With overspending being such a problem for most home renovation projects, it's a good idea to look into ways to prevent it. And one of the best methods is simply getting your contracting team involved. Taking the time to carefully plan with your contractor prior to any work taking place is a very prudent idea.
It's easy to get a bit overzealous and let your eyes overload your wallet. Your contractor will help bring you back down to earth with a more realistic representation of the costs for the materials needed to complete the renovation.
As such, you'll know whether you need to either adjust your budget or adjust the scope of your project.
Ways to Save on Your Project
Organization
An effective method (that is often overlooked) for staying in the parameters of your budget is quite simply: organization. Budget estimates, permits, contracts, receipts, materials, etc. All of these variables must be accounted for and organized appropriately. Know the cost of each item and ensure it's documented on a spreadsheet.
Vet Your Contractors
Nothing is worse than unknowingly hiring an incompetent contractor. You might as well throw your hard-earned money out of the window. Vet your contractors before you take on bids for your home renovation. Browse through their reviews, ask to see other projects they've completed, speak to previous customers, if possible. Was the contractor professional? Were they competent? Was the job done by the deadline and on budget? These are important things you need to know before hiring a contractor.
Consider a Renovation in the the Off-Season
Generally speaking, the off-season for contractors and builders is in the colder months. As such, depending on who you go to, they may offer some type of deal or discount to incentivize you, as work is typically slower for them during this time.
Renovation Budget: How Much is Enough?
Budgeting a minimum of 20% more than the estimated cost of the renovation is ideal. Grab a calculator, be practical with your budget, and ensure a fortuity line for 20% of the calculated price is added.
Additionally, it would be wise to consult with and work alongside your contractor, in addition to your architect (should you have one) to assist you with remaining pragmatic in regards to material costs and the estimated timeline.
Final Thoughts
With budgeting being such an integral part of a home renovation process, ensuring that it's airtight is crucial. That's why we here at Riverview Custom Homes provide cost management strategies in the form of detailed budgets before a project even begins.
We will craft your home with excellence and exceptional craftsmanship – and we will do so in a cost-effective manner. Moreover, we have been crowned the 2021 Building Industry and Land Development (BILD) Calgary Region Builder, which means, if you're looking for expert builders, quality design, and immaculate architectural artistry, then you've come to the right place.
Contact us today for additional information.